598 total views, 2 views today
In honor of Hispanic Heritage Month (Sept. 15 through Oct. 15), the Oregon Department of Veterans' Affairs will be sharing stories from the state's and nation's military and cultural history, including profile individual Hispanic American service members and veterans. See our earlier entries in this series here, here, here and here.
Santos Garcia will never forget the week he received his draft notice, near the waning days of the Vietnam War.
He had just bought a 1965 Plymouth Fury, and when he returned home from his military service, the car was gone. His family said they didn't know what happened to it.
"I never saw it again," he said. "I only drove it for a week."
Garcia served as a crew chief in Vietnam, working primarily on C-130s. Though he came from a military family, serving was not something he grew up wanting to do.
"I had three brothers and I was the only one that did not want to serve in the military," he said with a laugh. "And I got drafted."
But his service changed his perspective in many ways.
"Once I'm there and I've been given a job — I always try to do a good job," he said. "And I believe I did a good job."
His time in the Air Force made such an impression on him that his son and daughter both followed in his footsteps in serving in the Armed Forces.
"I think it just runs in the family," Garcia said. "You know, once we started, we all wanted to do something that help somebody. I've always been someone who wanted to help people."
His daughter, Martha-Estela Garcia, who today serves as the special assistant to the director of the Oregon Department of Veterans' Affairs, was 17 when she enlisted in the U.S. Army.
Boot camp was a real shock to the system.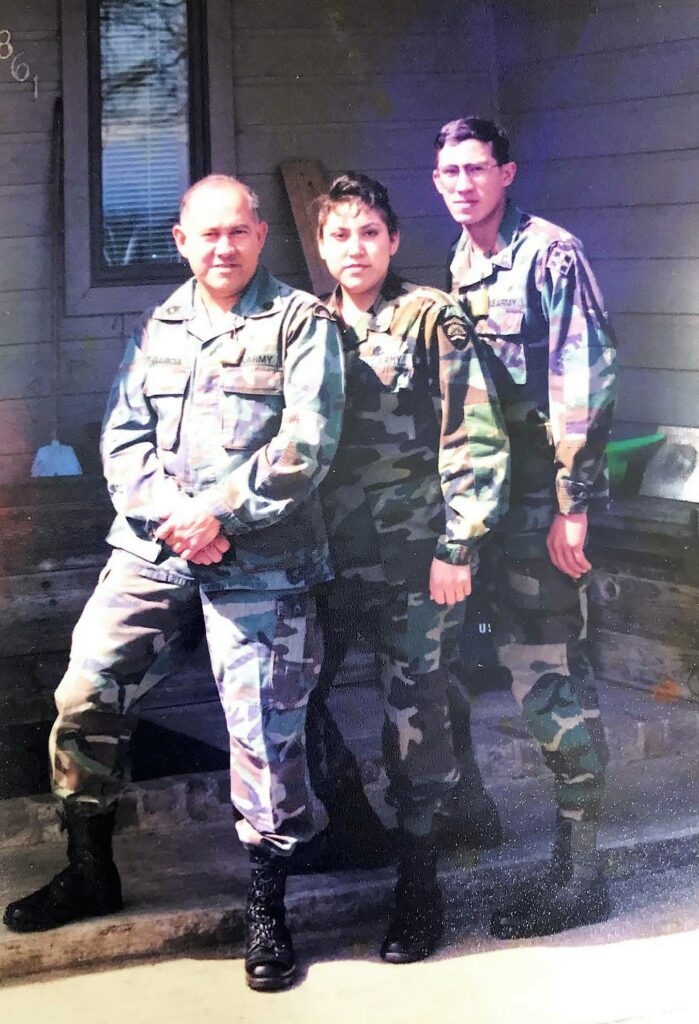 "I had been living in Veracruz, Mexico, for six months, hanging out on the beaches and having a good time," she recalled with a laugh. "I had to become disciplined and regimented, which I was not."
But she adjusted.
"I quickly learned I could do a lot more than I had ever thought I could," she said. "I was up to the challenge."
She worked in logistics, administration and public affairs during her time in the Army, which included two deployments — one to Bosnia in 1999 and another to Iraq 10 years later. During the latter deployment, she worked in personnel under then-Brigade Commander General Daniel R. Hokanson, who now serves as chief of the United States National Guard Bureau.
That mobilization of the 41st Infantry Brigade Combat Team from 2009 to 2010 was Oregon's largest troop mobilization since World War II.
"That was a very interesting mission and interesting time," Garcia said.
Her father, Santos, recalled a time during her first deployment to Kosovo, when gunfire broke out while they were on a call.
"We were talking on the radio, and she says, 'I've got to get my battle rattle on,'" he remembered. "And I said, 'Shoot first; ask questions later.' It was scary, but she was over there doing her job."
Martha-Estela Garcia said her heritage and bilingualism served her well overseas in the two very different cultures she experienced.
"I think speaking two languages is always helpful," she explained. "Even though I did not speak Bosnian or Arabic or Farzi, I felt I was able to communicate with people better because of the ability to speak two languages. You relate better to people from different backgrounds and languages and cultures."
She is proud of her personal service and her family's legacy and has taken advantage of opportunities to speak about her experiences and encourage people to consider serving in the Armed Forces — especially women and those of diverse backgrounds.
"It's something I always like to share," she said. "I get lots of questions from mothers in reference to their children and their daughters, and my message is just, 'You can do this. You can be part of something bigger.'"
Hits: 74