776 total views, 2 views today
In honor of Hispanic Heritage Month (Sept. 15 through Oct. 15), the Oregon Department of Veterans' Affairs will be sharing stories from the state's and nation's military and cultural history, including profile individual Hispanic American service members and veterans. See our first entry in this series here.
The only known Hispanic American Medal of Honor recipient with a link to Oregon is First Sergeant Maximo Yabes, who was born in Lodi, Calif., but who, at a young age, moved with his family to Oakridge, Ore., where he received his primary and secondary education.
In 1950, he dropped out of Oakridge High School and joined the United States Army, enlisting in Eugene, Ore.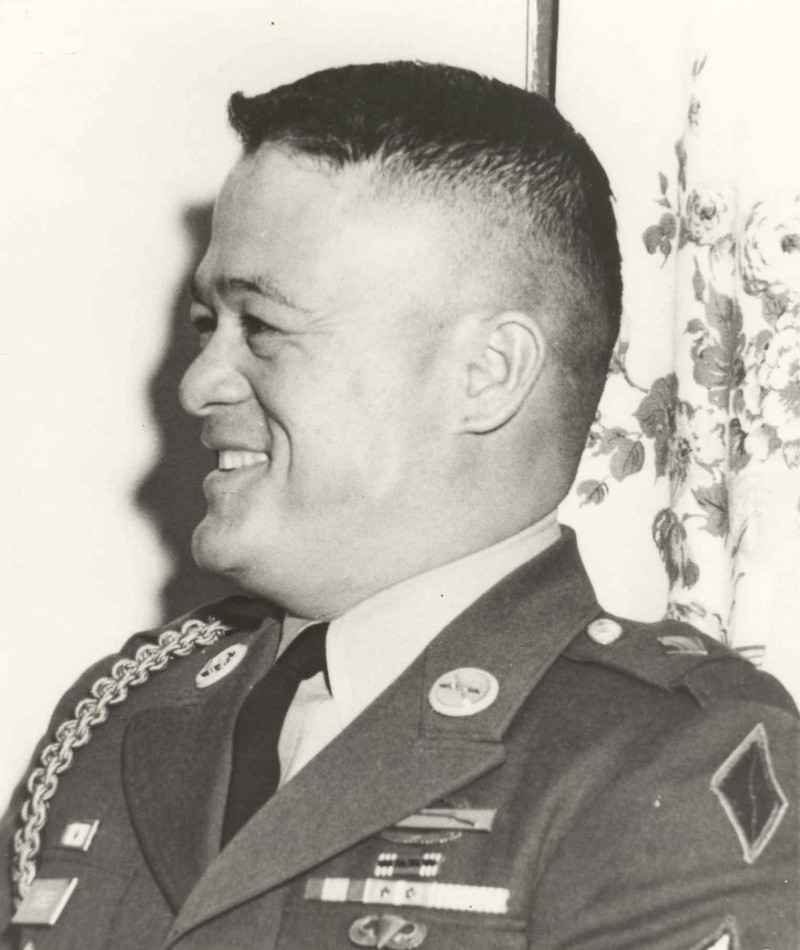 In 1967, he was a first sergeant with nearly 17 years experience, serving Alpha Company of the 4th Battalion, 9th Infantry, 25th Infantry Division in Cu Chi, a small hamlet northwest of Saigon during the Vietnam War.
Yabes' company was assigned to provide security for a team of Army engineers who had been tasked with creating a clear zone of land between the hamlet and a plantation to keep enemy snipers from using the thick jungle as cover.
On Feb. 26 of that year, a typically monsoonal day in South Vietnam, an enemy force that outnumbered Yabes' unit by almost 4 to 1 began attacking the U.S. position. Laying down a brutal barrage of heavy automatic weapons fire, the enemy breached the perimeter barbed wire and was hurling grenades towards the command bunker.
Yabes moved into the bunker and covered several of his troops, using his own body as a shield. Despite being struck painfully numerous times by grenade fragments, Yabes moved to another bunker and fired on the enemy with a grenade launcher he retrieved from a fallen comrade — singlehandedly halting the enemy's advance.
Yabes went on to assist two fallen soldiers to a safe area where they could receive medical aid before seeing an enemy machine gun within the perimeter that threatened the whole company. Alone and undefended, Yabes charged across open ground toward the enemy machine gun, killing the entire crew and destroying the weapon before being mortally wounded himself.
A total of 24 American soldiers and over 113 Vietcong were killed in the attack. First Sergeant Maximo Yabes was buried with full military honors at Fort Logan National Cemetery in Denver, Colo.
He was posthumously awarded the Medal of Honor, the United States' highest military decoration, which then-Secretary of the Army Stanley Resor presented to his wife and child in a ceremony held at the Pentagon in October 1968.
"1st Sgt. Yabes' valiant and selfless actions saved the lives of many of his fellow soldiers and inspired his comrades to effectively repel the enemy assault," his official Medal of Honor citation reads.
"His indomitable fighting spirit, extraordinary courage and intrepidity at the cost of his life are in the highest military traditions and reflect great credit upon himself and the Armed Forces of his country."
Dozens of individuals, businesses and organizations later donated time, money, labor and supplies to build a memorial to honor Yabes in his original hometown of Oakridge. They hired sculptor Tim Outman to create the memorial which features a fountain, a flag pole and a bronze bust with the likeness of Yabes set on a granite pedestal.

Engraved on the base are the details of Yabes' Medal of Honor exploits. The memorial is located in Greenwaters Park, on the east side of Oakridge, south of Highway 58. The city of El Paso, Texas, also honored Yabes by naming an avenue after him.
Hits: 112