1,200 total views, 2 views today
On February 3, 1945, the U.S. Army sent over 800 Black women overseas to England aboard the SS Ile de France. Their mission was unknown to them. Eleven days later, after dodging German U-boats, the 6888th Central Postal Directory Battalion — better known as "the Six-Triple Eight" — landed in Glasgow, Scotland. Waiting for them was their commander, Major Charity Edna Adams, the first Black woman to achieve the rank of lieutenant colonel in the U.S. Army.
Their journey had begun several years earlier when Dr. Mary McLeod Bethune, an adviser to President Franklin D. Roosevelt, advocated with First Lady Eleanor Roosevelt to find a meaningful role for Black women in the war. An educator and public leader, Bethune had traveled to colleges and universities in the United States, and she knew where the best qualified Black women were.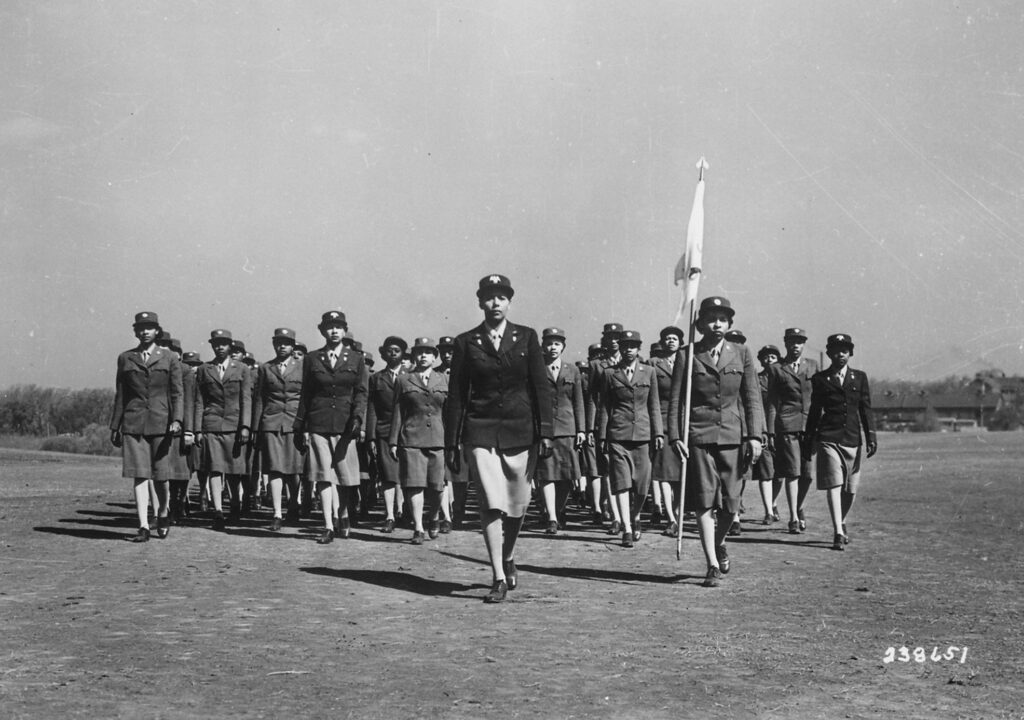 One of those women, Adams, was already serving in the Women's Army Corps (WAC) at Fort Des Moines, Iowa. Other Black women had also joined the WACs, and by war's end, more than 6,000 were in uniform.
In the summer of 1944, Adams and other Black WACs at Fort Des Moines had received orders to train at Fort Oglethorpe, Georgia, an overseas training center. There, Adams oversaw four companies. The preparation was intense, including gas mask drills, obstacle course, classroom training, clothes packing exercises, physical examinations and close-order drills.
By December 1944, the women were trained and going home to visit with family before sailing overseas. Adams and her executive officer, Captain Abbie Campbell, received orders for England to prepare for the coming troops. On the flight over, Adams opened an envelope marked "Secret." Inside were her orders to proceed to London, still no word of her mission.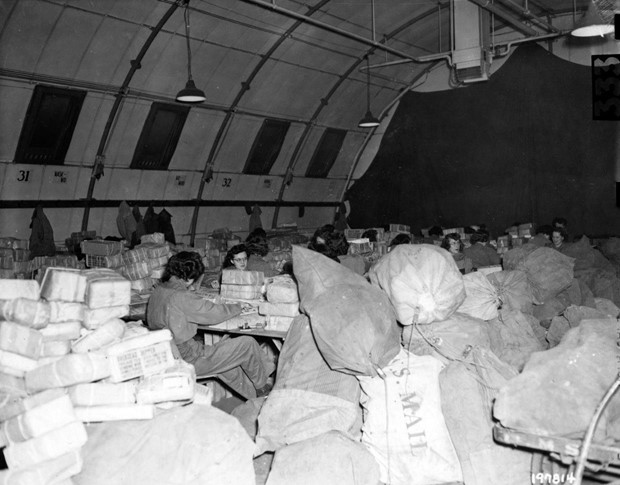 On February 14, the Six-Triple Eight arrived at their new home at the King Edward School near downtown Birmingham. The living conditions were austere, including having to take cold showers outside. They put their gear on their bunks and were taken to nearby warehouses. Inside, they found bags of mail, packages, and boxes stacked to the ceiling.
Before the Six-Triple Eight, these millions of letters and packages had been piling up in aircraft carriers across Europe, undelivered and undeliverable. It was estimated it would take six months to clear the backlog of undelivered parcels in France alone. The Six-Triple Eight did it in three.
At peak efficiency, they processed for delivery over 65,000 pieces of mail per shift. By war's end, it added up to 17 million pieces of mail. Their battle cry, "No mail, low morale," encapsulated the critical role mail played in maintaining the spirit of service members and would echo across makeshift mailroom throughout the war front.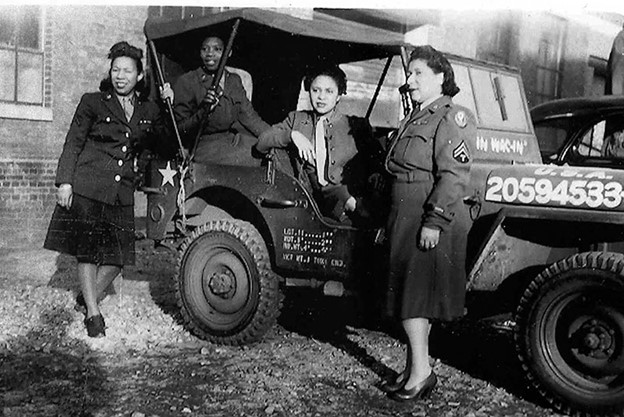 In May 1945, the Six-Triple Eight was moved to Rouen, France, not far from the port city of Le Havre, to clear two to three years of backed up mail. And again, the women completed the task in just three months. They were the first and only all-female Black battalion to be deployed overseas during World War II.
They were housed in an old mill complex, La Foudre, which had been purchased by the French government and turned into barracks just before World War II. The working conditions were the same: cold, dark, and damp with one exception. This time, they had German prisoners and French civilians working with them.
On July 8, while stationed in Rouen, three of the women, Sgt. Delores Browne, Pfc. Mary Bankston, and Pfc. Mary Barlow, were killed in a Jeep accident. They were buried at Colleville-Sur-Mer Normandy American Cemetery. Of the nearly 9,400 other Americans buried there, only four are women. Three of them are from the Six-Triple Eight.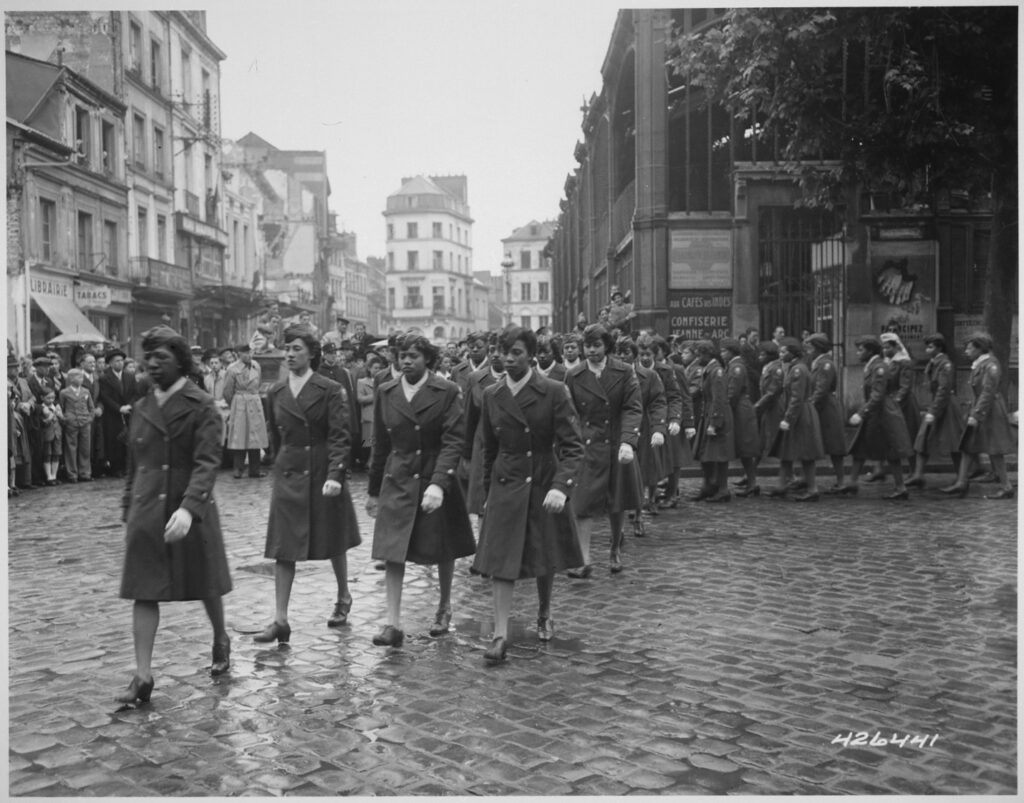 At the end of summer, the Six-Triple Eight moved to Paris and the luxuries of the Hotel Etat-Unis from where they began to rotate home. The battalion was transferred home and disbanded at Fort Dix, New Jersey, in 1946. There was no ceremony, no parades, no public appreciation, and no official recognition for all their accomplishments.
It would be 75 years before the Six-Triple Eight would begin to receive their just recognition. On November 30, 2018, a monument was dedicated in their honor at Fort Leavenworth, Kansas. On February 20, 2019, Secretary of the Army Mark T. Esper awarded them the Meritorious Unit Commendation for Meritorious Service.
And, in 2021, U.S. Senator Jerry Moran, R-Kansas, introduced bipartisan legislation to bestow upon the Six-Triple Eight the Congressional Gold Medal, highest expression of national appreciation for distinguished achievements and contributions by individuals or institutions. The legislation was passed unanimously in the Senate and is expected to receive a vote in the House of Representatives this month. There are six living members of this iconic battalion still with us today.
Hits: 87