275 total views, 1 views today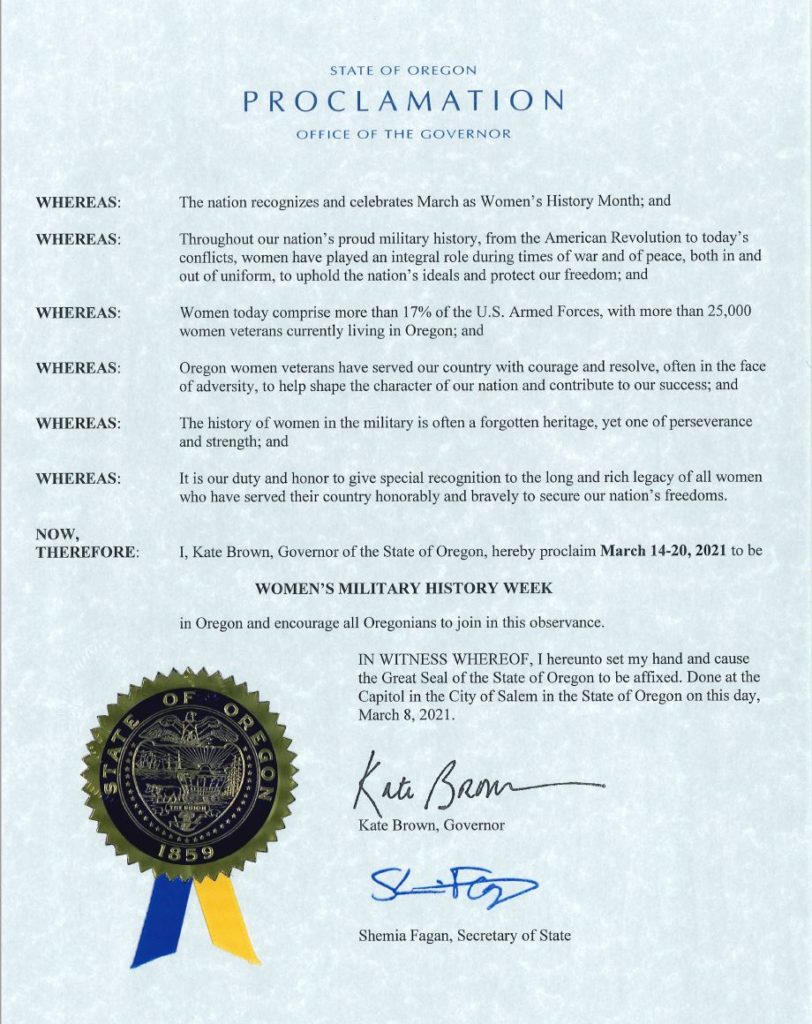 WHEREAS: The nation recognizes and celebrates March as Women's History Month; and
WHEREAS: Throughout our nation's proud military history, from the American Revolution to today's conflicts, women have played an integral role during times of war and of peace, both in and out of uniform, to uphold the nation's ideals and protect our freedoms; and
WHEREAS: Women today comprise more than 17% of the U.S. Armed Forces, with more than 25,000 women veterans currently living in Oregon; and
WHEREAS: Oregon women veterans have served our country with courage and resolve, often in the face of adversity, to help shape the character of our nation and contribute to our success; and
WHEREAS: The history of women in the military is often a forgotten heritage, yet one of perseverance and strength; and
WHEREAS: It is our duty and honor to give special recognition to the long and rich legacy of all women who have served their country honorably and bravely to secure our nation's freedoms.
NOW, THEREFORE: I, Kate Brown, Governor of the State of Oregon, hereby proclaim March 14-20, 2021 to be
WOMEN'S MILITARY HISTORY WEEK
in Oregon and encourage all Oregonians to join in this observance.
IN WITNESS WHEREOF, I hereunto set my hand and cause the Great Seal of the State of Oregon to be affixed. Done at the Capitol in the City of Salem in the State of Oregon on this day, March 8, 2021.
Kate Brown, Governor
Shemia Fagan, Secretary of State
---
ODVA will be sharing stories of women veterans via Facebook and Twitter throughout the week of March 14-20.
Hits: 27