1,399 total views, 4 views today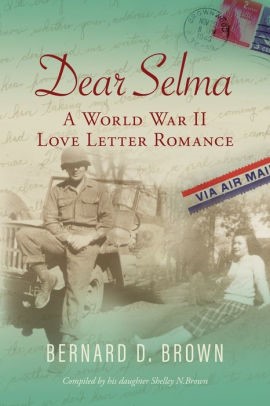 ---
Like many young men in the mid 1940's Bernard Brown was drafted into the Army in his senior year at North Salem High School. After a couple of detours Brown was sent to Marseilles, France on the front lines on Oct 20, 1944. He was a light machine gunner with the 103rd "Cactus" Division which advanced northward, eventually crossing into Germany in December of that year.
Brown was 19 and homesick. From Army college in Oklahoma, boot camps in Georgia and Texas, and from the front lines of the European Theater Brown wrote letters to a childhood friend he had grown up with in Portland, Oregon. Selma Nepom was then attending the University of Washington and Brown was eager to get news of the Portland Jewish community.
"It was an incredibly challenging and frightening two years and Selma's letters were so comforting to me," said Brown.
After the bloody Ardennes-Alsace Campaign (known as the Battle of the Bulge) in December of that year. Bernard put his two years of high school German to use and volunteered to assist in the interrogation of captured German soldiers.
In April 1945 Brown was wounded by artillery shrapnel but was soon back with his unit. Brown's U.S. Army infantry unit was the first to reach the Kaufering sub-camp of Dachau on April 29, 1945 and would become one of the Liberation Units. The soldiers were the first outside witnesses of the atrocities practiced in the camps. Their training to wage war didn't prepare any of the liberators for what they saw. This would become the most vivid memory of the war for Brown.
"It was a difficult thing to see. It broke your heart," said Brown. "More so with me being Jewish."
Later that year Brown and three of his buddies were hiding from the feared SS troops who were believed to be in nearby Innsbruck. Brown buried his dog tags marked "H" for Hebrew and kept the backup tags he was given marked "P" for Protestant in the event of being captured by Germans. Also for reasons of security, he was unable to keep any of Selma's letters.
But Selma kept all of Brown's letters. Over the course two years and hundreds of letters, these two friends fell in love.
Brown was honorably discharged on Nov 18, 1945.
"The feeling that I had upon being discharged from the service is indescribable," said Brown. "It was a huge relief. I could not wait to return to Oregon – and Selma."
While he was in Salem for a few days on furlough before completing his military service in Brownsville, TX he asked Selma to marry him. She said yes, or something along those lines.
Three months later they were married at Portland's Multnomah Hotel.
Brown had saved all of his military pay and they started their life together. Soon after their marriage Selma and Bernard moved to Salem where both enrolled in Willamette University – only the second married couple to do so.
Brown graduated from Pacific University in 1950 using his G.I. Bill, and Joined his father's optometry practice which grew into the Salem Eye Clinic where he practiced for 60 years before retiring. They started a family and built a home in South Salem, where they raised three children.
Brown, along with wife Selma, was very active in the community, where they often worked as a team.
Bernard and Selma Went back to Europe with their three kids. They traveled the world to explore six continents, often with their three children or their five grandchildren.
The couple celebrated their 65th wedding anniversary in the same ballroom in which they were married. The marriage would last 72 years before Selma passed in 2017.
During the war, he earned the Bronze Star, Purple Heart, WWII Victory Medal with two bronze service stars, the Combat Infantry Badge and Good Conduct Medal. The two service stars for participation in two major battles. In 2017, France recognized him with a Chevalier of International Order of the Legion of Honor.
Like many veterans, Brown rarely shared stories of his time overseas. Finding the letters brought back many memories and he was able to share some of his war experiences for the first time with daughter Shelley. The two worked together while sheltering in place to publish Dear Selma, often calling each other several times a day.
In 2018 Brown established the Bernard & Selma Brown Optometry Scholarship for Veterans with Pacific's College of Optometry to fund tuition and other expenses for military veterans.
The 95-year-old widower resides in the southwest Portland condo the couple shared prior to Selma's passing. Their son Jordan now runs the eye clinic, daughter Eden Rose is a lawyer, and Shelley works for a non-profit in California.
Dear Selma: A World War II Love Letter Romance,  can be found at Amazon.com. Proceeds from the sale of this book will be donated to the Ronald McDonald House at the Rood Family Pavilion in Portland, Oregon.
Hits: 157