116 total views, 2 views today
Celebrating LGBTQ+ veterans in June. Serving and supporting LGBTQ+ veterans every day.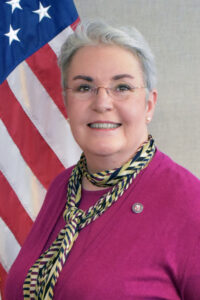 ODVA Director Kelly Fitzpatrick is a decorated Army veteran with a wealth of experience in Oregon veteran and military affairs. She served a trailblazing 16-year career in the United States Army that included command and staff assignments at Fort Hood, Texas, Fort Stewart, Georgia, and West Point, as well as the Republic of Korea and other places overseas.
Her military awards and decorations include multiple awards of the Meritorious Service Medal, the Southwest Asia Service Medal and the Army Parachutist Badge. Prior to joining ODVA, Fitzpatrick served as a senior executive in intelligence and legislative affairs at the Pentagon and a military and veterans constituent services representative for Senator Jeff Merkley's office.
She has served as the head of the Oregon Department of Veterans' Affairs for nearly four years after being appointed by Governor Kate Brown in August 2018. She is the first woman and first LGBTQ+ person to lead the Oregon Department of Veterans' Affairs in its 77-year history.
She lives in Portland with her wife, Joan Sigler. The couple have three children and four grandchildren.
In kicking off this year's Pride Month, Director Fitzpatrick graciously agreed to answer the following questions about her time in service and reflect on the efforts that have advanced equality for LGBTQ+ service members and veteran communities.
ODVA: What does Pride mean to you?
KF: To me, Pride is a celebration of my identity. It's all about being with other people from the LGBTQ+ community who also want to celebrate who they are, without worrying about what others may think.
ODVA: What does being an ally mean to you?
KF: Being an ally of the LGBTQ+ community means being someone who is there to provide the compassionate support and strong advocacy that members of the LGBTQ+ community want. Thank you for your support, allies!
Also — and I feel the need to be somewhat cautious here because I don't want to come across as ungrateful to those who are striving to support our community — an ally should always talk with their LGBTQ+ friends before taking a position that they assume LGBTQ+ individuals want them to advocate for.
Listening and understanding are key to being a true, empathic and supportive ally, and all it takes is a little effort and conversation. Just be sure that you are advocating for what we want and need, not what you think we in the LGBTQ+ community want and need.
ODVA: You served before "Don't Ask, Don't Tell" and a few years after this policy was instated. Could you share your experiences serving as a lesbian during times of discriminatory policies? What was the most difficult part of DADT for you?
KF: Serving as a lesbian during times of discriminatory policies meant spending many years of my life feeling conflicted between continuing my service in the Army, which I absolutely loved, and leaving it to live a life that was true to myself and my identity. It was often scary and lonely. DADT did not improve things, in my experience. I remained every bit as cautious while DADT was in place as I was before.
ODVA: As the first woman and first openly LGBTQ+ Director of ODVA, what changes in LGBTQ+ veteran benefits are the most impactful to you? (Such as the Department of Defense providing opportunities for individuals to make crucial changes to their discharge paperwork such as name changes and discharge upgrades?)
KF: For starters, I have to say that I was simply very lucky to not have had my Army career taken from me because of being outed. Sadly, there are many, many courageous service members and veterans who were not as fortunate.
For those who have suffered the cruel injustices inflicted on them by discriminatory military policies throughout the years, I am glad that the Department of Defense has made it easier to get upgrades to their character of discharge. That honorable discharge not only opens the door to a host of VA benefits to which they may not have previously had access, it also provides a sense of vindication.
For transgender veterans, I hope that DOD and the USDVA efforts to make name changes more streamlined is life-affirming to those who have had to navigate frustrating bureaucracies for years.
ODVA: What advice would you have for anyone in Oregon's LGBTQ+ veteran community who may still believe they do not rate veteran benefits?
KF: To those members of Oregon's LGBTQ+ community who may not believe they deserve or are eligible for VA benefits I say, "Please, please contact your County Veteran Service Office, Tribal Veteran Service Office or ODVA's LGBTQ+ Veterans Coordinator, whoever you would feel most comfortable with. Just have a conversation.
Tell them your personal story and let a trained VSO figure out how they can help you access whatever state or federal veteran benefits you are eligible for. Don't let the pain or shame you may feel from past military experience keep you from accessing benefits that you earned by serving your country! What you discover could be life-transforming, not only for yourself but your loved ones as well.
Hits: 27