1,294 total views, 4 views today
By Ashley A. Massey, Public Information Officer, Oregon State Marine Board
A day in 1969 changed the trajectory of Craig Withee's life. A car accident left him a paraplegic, but that has not slowed down this retired Civil Engineer from Bend. In 2018, Craig Withee was appointed to the Marine Board and brought with him not only his 38-years of experience in facility engineering, operations and management for the Department of Army and the Federal Aviation Administration, but a perspective from an avid mixed-use boater and angler who happens to live with physical limitations. Withee offers his perspectives around the opportunities -and barriers for persons with disabilities to connect with the outdoors with a call to action for policymakers, planners, and the recreational boating public.
Throughout his life, Withee has maintained a love for the outdoors, especially for boating, cruising, fishing and hunting. He's owned and operated many motorized and nonmotorized boats and has experience on every type of waterway; in lakes, rivers and the ocean, including Alaska bush country, busy ocean harbors, and large river drainages. Withee's outdoor enthusiasm has continued into retirement with boating on the high lakes and rivers in Central Oregon and the coastal communities in Reedsport, Florence, and Newport. Most of his outdoor experiences have included his wheelchair, which has not hampered his pursuit of life and adventure.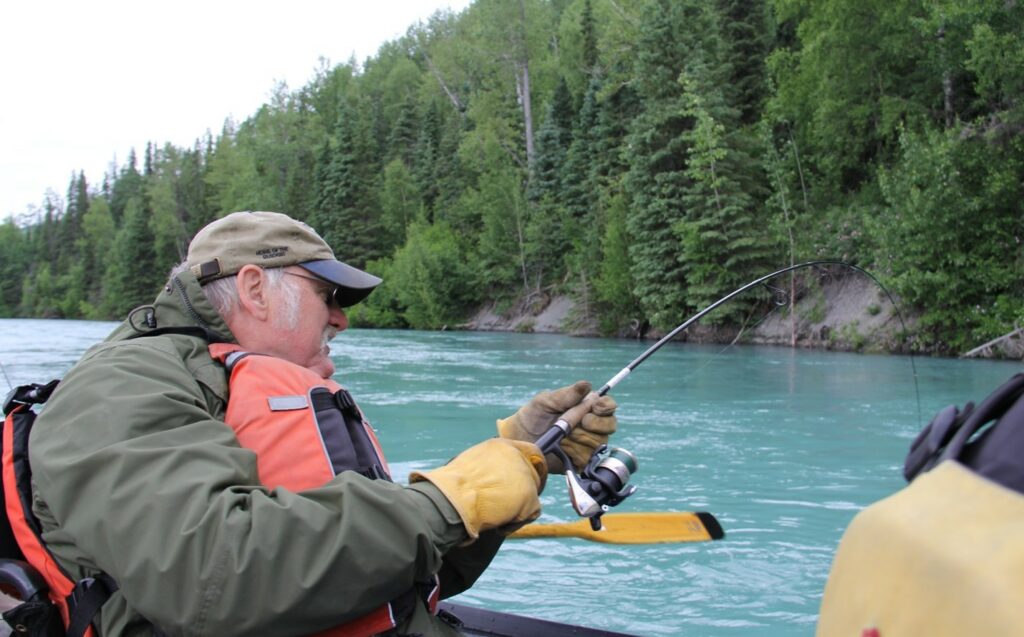 One thing is for sure, connecting in nature and being on the water helps heal the soul. "People need the opportunity -need the social acceptance, as well as the facilities and the capability to get on the water. When you're in a wheelchair, or have other disabilities, you're isolated. A lot of times you withdraw because you feel that you're not accepted and you're not capable of doing the things you want to do." Withee proves them wrong, but on some adventures, it takes a team of help from family and hired outfitter guides where accommodations from the land to the water aren't available. "Getting from a boarding dock with bullrails onto a boat is nearly impossible. But having wheelchair space between railings at more sites would allow me to maneuver by myself into my boat." Withee has found solace and liberation on the coast, where getting down the gangway needs to be carefully timed with the tide, as a different challenge.
Withee has an aluminum boat, specifically designed for his wheelchair and maneuvering once inside. Another barrier is finding a boat builder who can modify boats for people with physical limitations. This too has not deterred him.
Withee also uses a modified Flycraft inflatable boat with an electric motor, complete with a throttle extension so he has full control of his adventure. "The tough part is transitioning from the chair to the kayak seat, but it's a good workout." Withee adds, "When I'm out on the water, I'm completely free. I have no disability." Invigorating, energizing, and liberating are other key words he uses to describe how being on the water helps with his healing.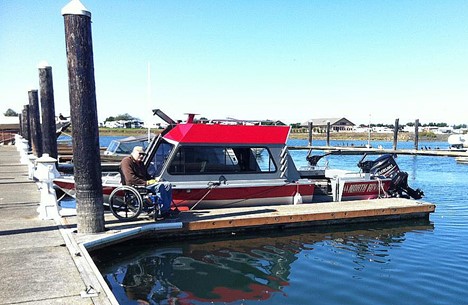 As a member of the Marine Board, Withee is passionate about state agencies working together toward equity and inclusion, as well as improving/expanding ADA access and highlighting places for persons with disabilities to go.
"If we're able to give people opportunities and make them aware of what's out there -what they can and what they're welcome to do, then they'll participate! We'd have a lot more of them engaged in society. That's what I think needs to happen. Inclusion for all. Ways to work better together and accessible for all."
An unfortunate reality for Withee is what happens when he's trying to launch or retrieve his boats from the water. "People get impatient. My wife or other friends will tell people who ask why we're hogging up the boarding dock, to "see for yourself," and then witness Withee as he wheels himself down the ramp. "If people open their eyes, have acceptance and some patience, they'll see the challenges persons with disabilities face. If facility providers help improve access to the water, the public will ultimately see the benefits to themselves, as well as the disabled community."
The Marine Board and its boating facilities program helps public facility owners with permitting, design and engineering services, and grant funding for boat ramps, nonmotorized launches, boarding docks, parking areas, and restroom facilities.
Land-based improvements and new dock designs also adhere to federal ADA requirements. The challenge is in the transition from land to the water on tidally influenced waterbodies, reservoirs with large water fluctuations or where other natural barriers exist. The agency is committed to exploring options and expanding partnerships to help connect people to the water for all its healing benefits.
---
Learn more about the Marine Board, its boating facilities program, and use the interactive Boat Oregon Online Maps to help plan your on-water healing journey at boat.oregon.gov. Be sure check out the nonmotorized and electric motor only map layer to find waterbodies with lower gradients and shallow sloping to access the water.
Hits: 249