550 total views, 2 views today
September 18, 2020 is POW/MIA Recognition Day, commemorated each year on the third Friday in September. The purpose is to honor those who served as prisoners of war and those still missing in action (MIA).
Oregon POW/MIA Recognition Day Proclamation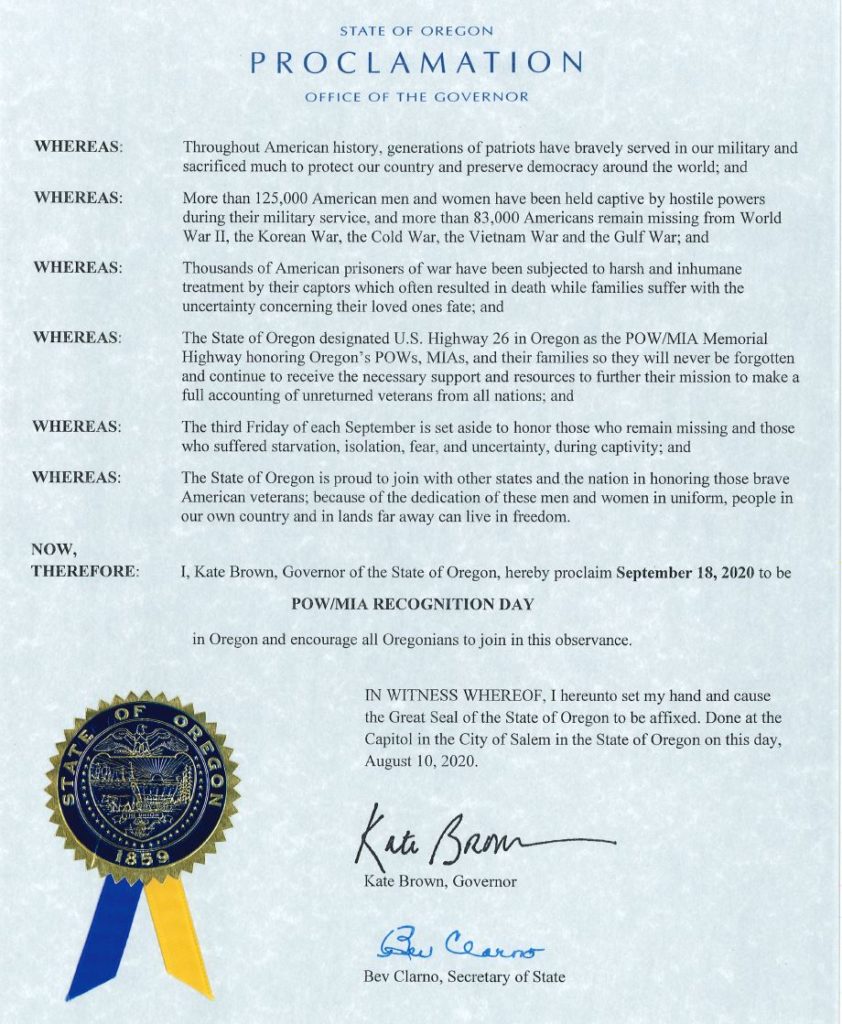 WHEREAS: Throughout American history, generations of patriots have bravely served in our military and sacrificed much to protect our country and preserve democracy around the world; and
WHEREAS: More than 125,000 American men and women have been held captive by hostile powers during their military service, and more than 83,000 Americans remain missing from World War II, the Korean War, the Cold War, the Vietnam War and the Gulf War; and
WHEREAS: Thousands of American prisoners of war have been subjected to harsh and inhumane treatment by their captors which often resulted in death while families suffer with the uncertainty concerning their loved ones fate; and
WHEREAS: The State of Oregon designated U.S. Highway 26 in Oregon as the POW/MIA Memorial Highway honoring Oregon's POWs, MIAs, and their families so they will never be forgotten and continue to receive the necessary support and resources to further their mission to make a full accounting of unreturned veterans from all nations; and
WHEREAS: The third Friday of each September is set aside to honor those who remain missing and those who suffered starvation, isolation, fear, and uncertainty, during captivity; and
WHEREAS: The State of Oregon is proud to join with other states and the nation in honoring those brave American veterans; because of the dedication of these men and women in uniform, people in our own country and in lands far away can live in freedom.
NOW, THEREFORE: I, Kate Brown, Governor of the State of Oregon, hereby proclaim September 18, 2020 to be
POW/MIA RECOGNITION DAY
in Oregon and encourage all Oregonians to join in this observance.
IN WITNESS WHEREOF, I hereunto set my hand and cause the Great Seal of the State of Oregon to be affixed. Done at the Capitol in the City of Salem in the State of Oregon on this day, August 10, 2020.
Kate Brown, Governor
Bev Clarno, Secretary of State
---
Hits: 216