227 total views, 1 views today
September 6-12, 2020 is Oregon Veteran Suicide Prevention Awareness Week. ODVA will be sharing ways you can spread awareness and help veterans in your community via Facebook and Twitter throughout the week.
Oregon Veteran Suicide Prevention Awareness Week Proclamation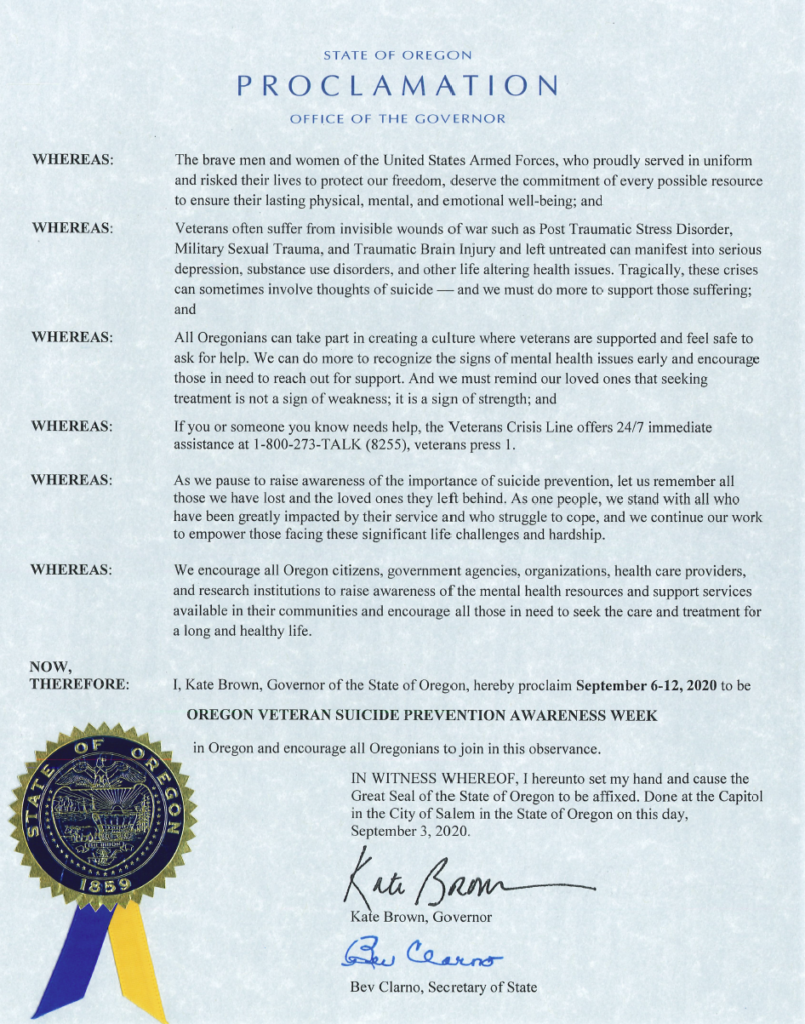 WHEREAS: The brave men and women of the United States Armed Forces, who proudly served in uniform and risked their lives to protect our freedom, deserve the commitment of every possible resource to ensure their lasting physical, mental, and emotional well-being; and
WHEREAS: Veterans often suffer from invisible wounds of war such as Post Traumatic Stress Disorder, Military Sexual Trauma, and Traumatic Brain Injury and left untreated can manifest into serious depression, substance use disorders, and other life altering health issues. Tragically, these crises can sometimes involve thoughts of suicide – and we must do more to support those suffering; and
WHEREAS: All Oregonians can take part in creating a culture where veterans are supported and feel safe to ask for help. We can do more to recognize the signs of mental health issues early and encourage those in need to reach out for support. And we must remind our loved ones that seeking treatment is not a sign of weakness; it is a sign of strength; and
WHEREAS: If you or someone you know needs help, the Veterans Crisis Line offers 24/7 immediate assistance at 1-800-273-TALK (8255), veterans press 1.
WHEREAS: As we pause to raise awareness of the importance of suicide prevention, let us remember all those we have lost and the loved ones they left behind. As one people, we stand with all who have been greatly impacted by their service and who struggle to cope, and we continue our work to empower those facing these significant life challenges and hardship.
WHEREAS: We encourage all Oregon citizens, government agencies, organizations, health care providers, and research institutions to raise awareness of the mental health resources and support services available in their communities and encourage all those in need to seek the care and treatment for a long and healthy life.
NOW, THEREFORE: I, Kate Brown, Governor of the State of Oregon, hereby proclaim September 6-12, 2020 to be
OREGON VETERAN SUICIDE PREVENTION AWARENESS WEEK
in Oregon and encourage all Oregonians to join in this observance.
IN WITNESS WHEREOF, I hereunto set my hand and cause the Great Seal of the State of Oregon to be affixed. Done at the Capitol in the City of Salem in the State of Oregon on this day, September 3, 2020.
Kate Brown, Governor
Bev Clarno, Secretary of State
---
Hits: 22