235 total views, 1 views today
75th Anniversary Livestreams
On September 2nd, commemorate the 75th Anniversary from home via the following live streams:
75th Anniversary of the End of World War II Proclamation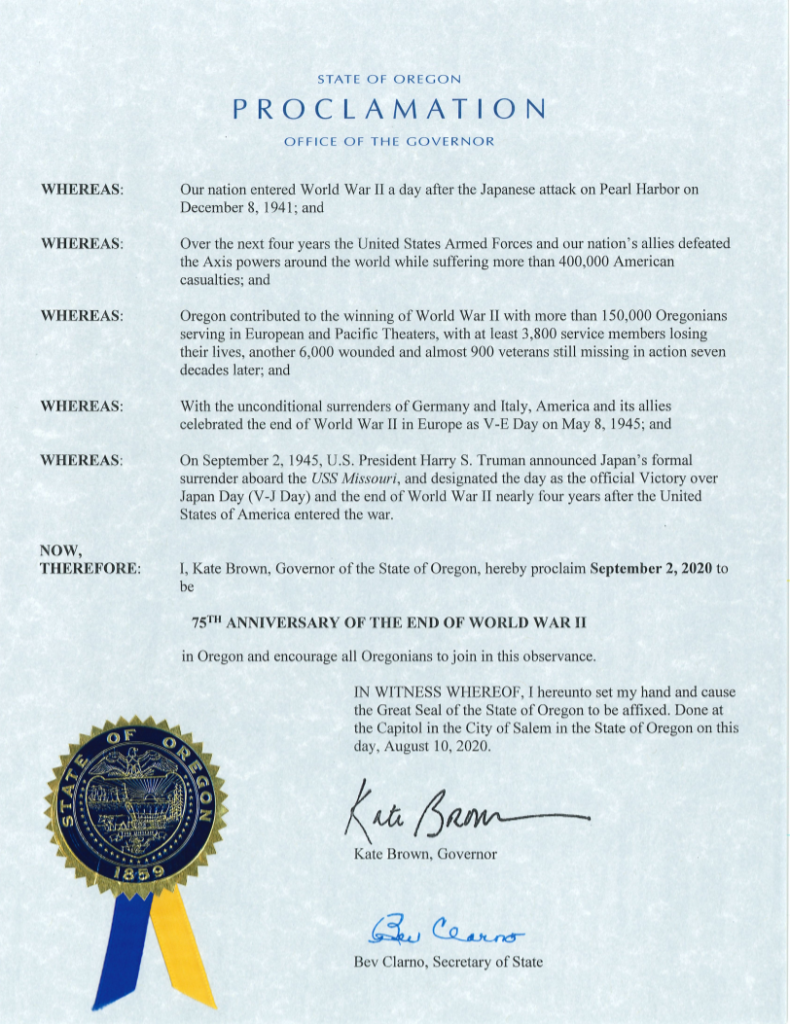 WHEREAS: Our nation entered World War II a day after the Japanese attack on Pearl Harbor on December 8, 1941; and
WHEREAS: Over the next four years the United States Armed Forces and our nation's allies defeated the Axis powers around the world while suffering more than 400,000 American casualties; and
WHEREAS: Oregon contributed to the winning of World War II with more than 150,000 Oregonians serving in European and Pacific Theaters, with at least 3,800 service members losing their lives, another 6,000 wounded and almost 900 veterans still missing in action seven decades later; and
WHEREAS: With the unconditional surrenders of Germany and Italy, America and its allies celebrated the end of World War II in Europe as V-E Day on May 8, 1945; and
WHEREAS: On September 2, 1945, U.S. President Harry S. Truman announced Japan's formal surrender aboard the USS Missouri, and designated the day as the official Victory over Japan Day (V-J Day) and the end of World War II nearly four years after the United States of America entered the war.
NOW, THEREFORE: I, Kate Brown, Governor of the State of Oregon, hereby proclaim September 2, 2020 to be
75th ANNIVERSARY OF THE END OF WORLD WAR II
in Oregon and encourage all Oregonians to join in this observance.
IN WITNESS WHEREOF, I hereunto set my hand and cause the Great Seal of the State of Oregon to be affixed. Done at the Capitol in the City of Salem in the State of Oregon on this day, August 10, 2020.
Kate Brown, Governor
Bev Clarno, Secretary of State
---
ODVA will be sharing stories of Oregon World War II veterans via Facebook and Twitter throughout the week.
Hits: 20