310 total views, 1 views today
2020 Women Veterans Day Proclamation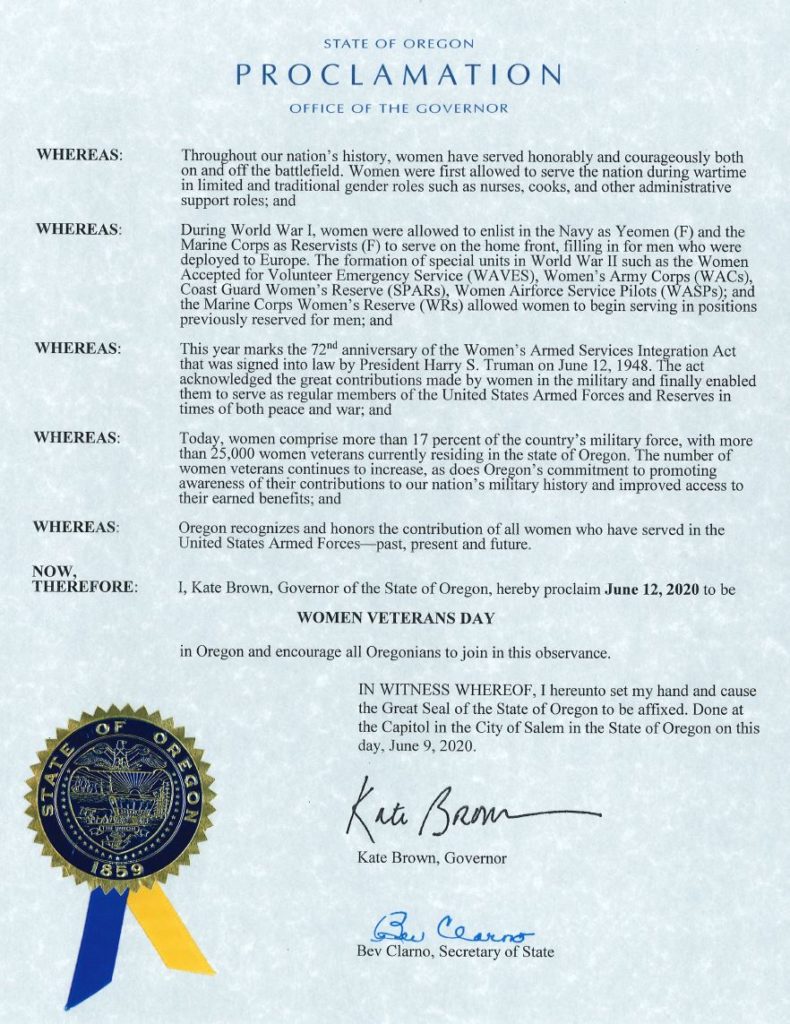 WHEREAS: Throughout our nation's history, women have served honorably and courageously both on and off the battlefield. Women were first allowed to serve the nation during wartime in limited and traditional gender roles such as nurses, cooks, and other administrative support roles; and
WHEREAS: During World War I, women were allowed to enlist in the Navy as Yeomen (F) and the Marine Corps as Reservists (F) to serve on the home front, filling in for men who were deployed to Europe. The formation of special units in World War II such as the Women Accepted for Volunteer Emergency Service (WAVES), Women's Army Corps (WACs), Coast Guard Women's Reserve (SPARs), Women Airforce Service Pilots (WASPs), and the Marine Corps Women's Reserve (WRs) allowed women to begin serving in positions previously reserved for men; and
WHEREAS: This year marks the 72nd anniversary of the Women's Armed Services Integration Act that was signed into law by President Harry S. Truman on June 12, 1948. The act acknowledged the great contributions made by women in the military and finally enabled them to serve as regular members of the United States Armed Forces and Reserves in times of both peace and war; and
WHEREAS: Today, women comprise more than 17 percent of the country's military force, with more than 25,000 women veterans currently residing in the state of Oregon. The number of women veterans continues to increase, as does Oregon's commitment to promoting awareness of their contributions to our nation's military history and improved access to their earned benefits; and
WHEREAS: Oregon recognizes and honors the contribution of all women who have served in the United States Armed Forces – past, present and future.
NOW, THEREFORE: I, Kate Brown, Governor of the State of Oregon, hereby proclaim June 12, 2020 to be
WOMEN VETERANS DAY
in Oregon and encourage all Oregonians to join in this observance.
IN WITNESS WHEREOF, I hereunto set my hand and cause the Great Seal of the State of Oregon to be affixed. Done at the Capitol in the City of Salem in the State of Oregon on this day, June 9, 2020.
Kate Brown, Governor
Bev Clarno, Secretary of State
---
ODVA will be sharing stories of Oregon women veterans via Facebook and Twitter throughout the day.
Hits: 33