216 total views, 1 views today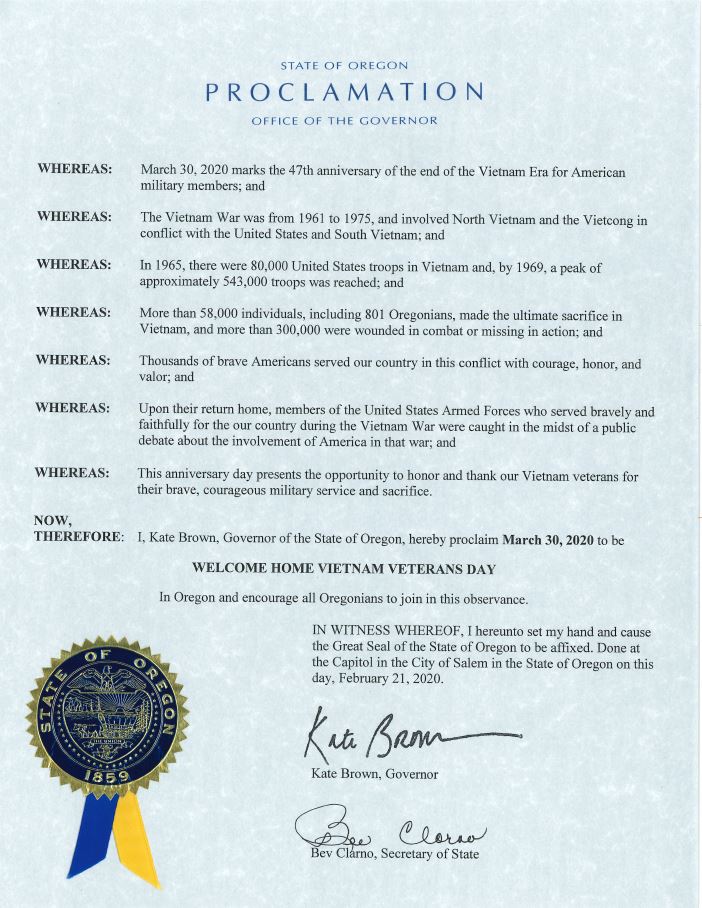 WHEREAS: March 30, 2020 marks the 47th anniversary of the end of the Vietnam Era for American military members; and
WHEREAS: The Vietnam War was from 1961 to 1975, and involved North Vietnam and the Vietcong in conflict with the United States and South Vietnam; and
WHEREAS: In 1965, there were 80,000 United States troops in Vietnam and, by 1969, a peak of approximately 543,000 troops was reached; and
WHEREAS: More than 58,000 individuals, including 801 Oregonians, made the ultimate sacrifice in Vietnam, and more than 300,000 were wounded in combat or missing in action; and
WHEREAS: Thousands of brave Americans served our country in this conflict with courage, honor, and valor; and
WHEREAS: Upon their return home, members of the United States Armed Forces who served bravely and faithfully for our country during the Vietnam War were caught in the midst of a public debate about the involvement of America in that war; and
WHEREAS: This anniversary day presents the opportunity to honor and thank our Vietnam veterans for their brave, courageous military service and sacrifice.
NOW, THEREFORE: I, Kate Brown, Governor of the State of Oregon, hereby proclaim March 30, 2020 to be
WELCOME HOME VIETNAM VETERANS DAY
In Oregon and encourage all Oregonians to join in this observance.
IN WITNESS WHEREOF, I hereunto set my hand and cause the Great Seal of the State of Oregon to be affixed. Done at the Capitol in the City of Salem in the State of Oregon on this day, February 21, 2020.
Kate Brown, Governor
Bev Clarno, Secretary of State
---
ODVA will be sharing stories of Vietnam era veterans via Facebook and Twitter throughout the end of March.
Hits: 25