398 total views, 2 views today
In the news: scams, fraud, and you
This month's headlines have been full of stories on fraud and scams targeting Oregonians. Here's what Oregon veterans, friends, and family need to know:
Equifax data breach settlement
Oregon to receive $2.8M from record $700M Equifax data breach settlement
The Oregonian reported today that Equifax has agreed to pay $700 million, and potentially more, to settle with the federal authorities and states over its 2017 data breach that exposed the Social Security numbers and other private information of nearly 150 million people, roughly half of the U.S. population.
Oregon is in line to receive $2.8 million, according to the Oregon Department of Justice.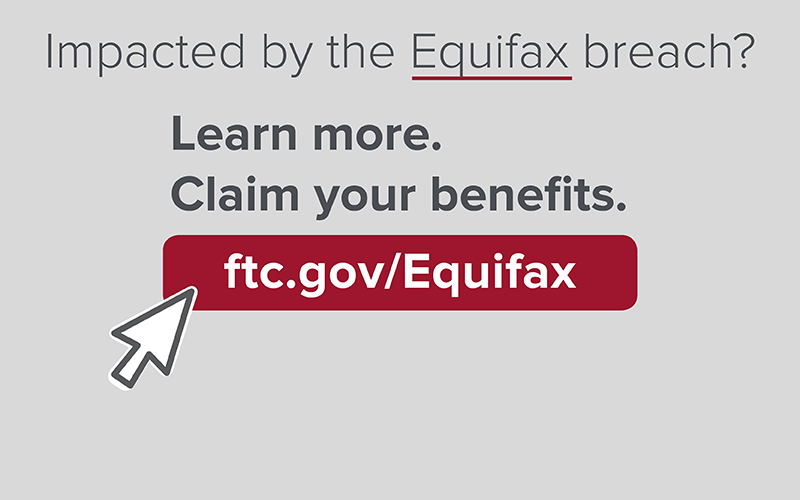 If you were affected by the breach, you may be eligible for free credit monitoring or a $125 cash payment. Other benefits include reimbursement and cash payments for time and money spent protecting your identity or recovering from identity theft, and free identity restoration services if someone steals your identity or you experience fraud.
Go to ftc.gov/Equifax to learn more about the settlement and claims process.
Read more about the Equifax settlement and sign up for alerts from the FTC.
Social Security Administration phone scams
Complaints about government imposter scams are skyrocketing, reaching a record high in May, according to a new FTC report.
NBC News reports that so far this year, the FTC has received more than 200,000 complaints from people who were contacted by someone falsely claiming to be from the Social Security Administration, Internal Revenue Service or another government entity.
Per the article: "Calling people and pretending to be with a government agency — IRS, Social Security, ICE, DEA, or the local sheriff's department — is a ruse that's been lucrative for years. But these imposter scams have now hit an all-time high."
The FTC has an informative post called "This is what a Social Security scam sounds like" which sums up the scam:
"Scammers are saying your Social Security number (SSN) has been suspended because of suspicious activity, or because it's been involved in a crime. Sometimes, the scammer wants you to confirm your SSN to reactivate it. Sometimes, he'll say your bank account is about to be seized – but he'll tell you what to do to keep it safe. (Often, that involves putting your money on gift cards and giving him the codes – which, of course, means that your money is gone.)"
The SSA scam is so prevalent, even an ODVA employee received a scam call! Listen to that voicemail below:
What should you do if you receive a scam call? Here are three tips from the FTC:
Don't give the caller your information. Never give out or confirm sensitive information – like your bank account, credit card, or Social Security number – unless you know who you're dealing with. If someone has contacted you, you can't be sure who they are.
Don't trust a name or number. Con artists use official-sounding names to make you trust them. To make their call seem legitimate, scammers use internet technology to spoof their area code – so although it may seem they are calling from Washington, DC, they could be calling from anywhere in the world.
Check with the Social Security Administration. The SSA has a warning about these scams and suggests you contact them directly at 1-800-772-1213 to verify the reason for the contact and the person's identity prior to providing any information to the caller.
If you come across one of these scams, please report it to the Social Security Administration's Fraud Hotline at 1-800-269-0271, or 1-866-501-2101(TTY), and then tell the FTC about it.
---
How to tell it's a scam
Beyond the latest SSA scams, how can you tell when something isn't right? Oregon's Attorney General says to keep these things in mind: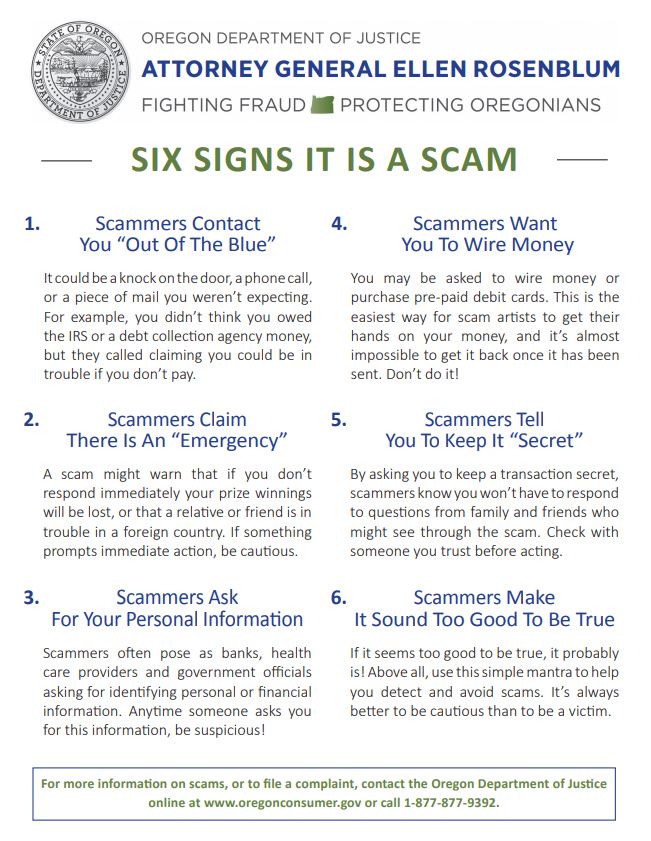 Scammers come up with new ruses all the time, but by following the above tips, you can help keep yourself, your family and friends safe.
Hits: 47