247 total views, 2 views today
Melanie Ku'Ulei Bjerke, Marine, Operation Desert Storm
Marine Veteran Melanie Ku'Ulei Bjerke was 21 when she enlisted in the Marines because it looked like the most challenging branch. It was not what she expected.
"I was told there would be head games in the training environment. There are a lot of very specific things you go through, and there is no way to prepare for it," Bjerke said. "It's one of the experiences we all share, and we all made it through."
One memorable experience was a weekly health and welfare check where they had to present themselves two by two in front of the series commander and rotate 360 degrees, showing their palms and the bottoms of their feet. "We had been training on one of the obstacle courses and were really muddy," Bjerke said. "We thought it would be funny to put muddy hand prints on our butts during the check."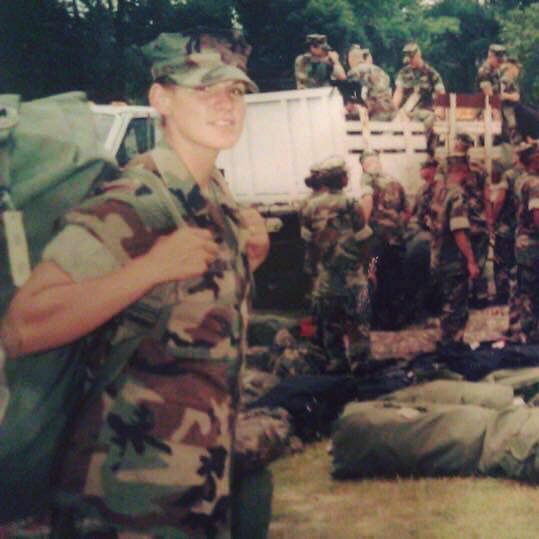 When Bjerke initially joined, she saw an opportunity to have immediate independence and to be able to sustain herself. She had high marks on her vocational aptitude test and qualified for additional educational benefits in addition to the GI Bill benefits.
Bjerke used those benefits to get her associate degree and thinks about enrolling into a Bachelor's program with her remaining benefits. A mother of five with three daughters from a previous marriage and two stepsons with her current husband, she thinks perhaps they might also be able to use the benefits.
Bjerke was on active duty during Operation Desert Storm and has zero regrets for her time with the Marines. Since leaving the military as a Sergeant in 2006, Bjerke has taken on a new role working with senior health services. Many of the seniors she works with are veterans.
"I can see the emotional responses to things that are going on," she said. "Having served, I have an understanding that they all have the right to think what they want. It is not my job to change it, but it was my duty to defend that right."
In honor of Women's History Month, the Oregon Department of Veterans' Affairs will spend this week recognizing a handful of the countless brave Oregonians who have served our nation during war and stood guard over our peace.
Hits: 143