150 total views, 1 views today
On Oct. 12, 1864, a man named Jewett Williams joined the 20th Maine Volunteer Infantry Regiment of the U.S. Army. The 21-year-old son of Canadian immigrants and small-town farmers, he went on to participate in several decisive engagements that helped secure the Union's victory in the waning months of the Civil War.
He was even present at that Appomattox, Va., court house on April 9, 1865, to receive the surrender of Confederate General Robert E. Lee, one of the most singularly monumental moments in our nation's history.
Sadly, history did not remember him. Almost 60 years later, he died in obscurity, at a mental institution on the other side of the country that he helped preserve.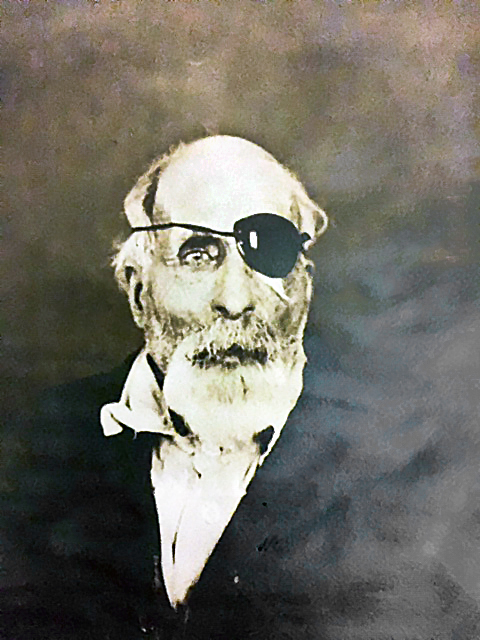 After the war, Jewett Williams became a carpenter. He was married twice and had at least six children, not all of whom survived into adulthood.
He lived in Maine, Minnesota and Washington, before finally settling in Portland, Ore.
On April 14, 1922, he was committed to the state asylum, which is now called the Oregon State Hospital. He was in poor health and suffering from progressive senile dementia and hallucinations.
The only known photo of Jewett Williams is from his intake: It shows him with white hair, a white beard and wearing a black patch over his left eye. He died three months later, on July 17, of arterial sclerosis. He was 78 years old.
His body was cremated, and his remains were put in a copper canister. They were never claimed.
In 2004, the canister containing Williams' cremains, along with thousands of others, was rediscovered by Oregon Sen. Peter Courtney during a tour of the state hospital's grounds. The find sparked outrage and calls for reform across the state, eventually culminating in a $458 million investment that helped build two new, state-of-the-art mental facilities.
"We owe them," Courtney said of the cremains, which he often refers to as "the forgotten souls." "We owe them. They're the ones who built the Oregon State Hospital that has now become so extraordinary."
That 2004 discovery also fueled interest in the cremains themselves. A memorial was established at the Salem campus of the Oregon State Hospital, and efforts were renewed to locate family members of or final resting places for the cremains that remained unclaimed.
Last year, the work of volunteer genealogist Phyllis Zegers caught the eye of a Maine historian researching the 20th Maine. Using online records, Zegers had written a bio of Jewett Williams that highlighted his service during the Civil War.
---
---
The historian, Tom Desjardin, who was also the state's education commissioner at the time, proposed to the adjutant general of the Maine National Guard and the director of the Maine Bureau of Veterans' Services the idea of returning Williams' cremains to his native state for a proper military burial.
Officials in Maine and Oregon have been working since then to coordinate the complicated task of sending Jewett Williams home. That journey began the same place his journey in life ended: at the Oregon State Hospital.
On Aug. 1, a crowd of hospital and state employees, veterans, local dignitaries and others gathered to honor Pvt. Jewett Williams. He was finally given the dignified and moving ceremony he deserved, but never received, when he died almost a hundred years earlier.
"We are here to help correct the record," said Oregon Department of Veterans' Affairs Director Cameron Smith, "to ensure that this Civil War soldier receives the final honors he earned through his service."
Jewett Williams was, in the words of Oregon State Hospital Superintendent Greg Roberts, a "veteran who, like so many others, time and society had forgotten."
"We don't know if his war experiences played a part in his psychiatric hospitalization," Roberts said. "But we do know that like many veterans of today that have returned home struggling with mental illness and PTSD, he should not and will not be forgotten."
Sen. Courtney spoke of Williams' final days.
"He was a son, a brother, a husband and a father. At the end of his life, however, he was alone. He was alone and institutionalized here," Courtney said. "While he spent only three months here at Oregon State Hospital, when he died, nobody came. Nobody came. Nobody came to honor him. Nobody came to take him home. Nobody came. Until today."
At the end of the ceremony, a blessing was said, and the cremains of Pvt. Jewett Williams were transferred into the solemn and respectful hands of the Patriot Guard Riders, who will escort him along the 3,000-mile journey with honor and care.
All that remains of Jewett Williams' time in Oregon is a hollow brass tube, which now occupies the space that once held his cremated ashes. It is a symbol that he is gone, but not forgotten. It is a symbol that he has gone home.
For continuing updates on Jewett Williams' final journey, see the ODVA event page Send Jewett Williams Home and the Patriot Guard Riders' page Bringing Jewett Williams Home.
Hits: 26