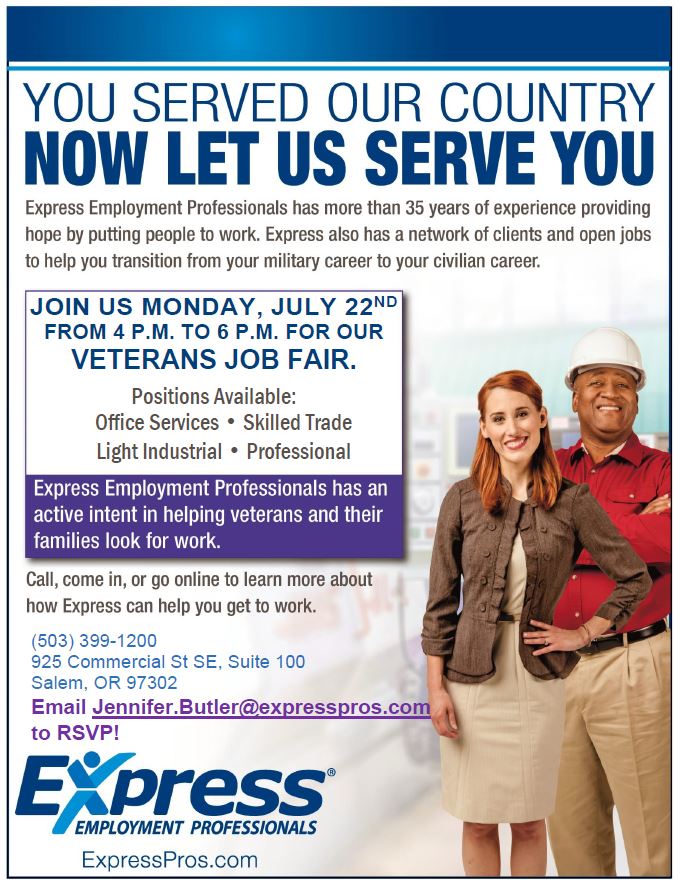 Veterans Job Fair in Salem
Veterans Job Fair sponsored by Express Employment Professionals.
Date/Time: 07/22/2019 04:00 PM to 07/22/2019 06:00 PM. Location: 925 Commercial St. SE, Suite 100.
Express Employment Professionals has more than 35 years of experience providing hope by putting people to work. Express also has a network of clients and open jobs to help you transition from your military career to your civilian career. Join us Monday, July 22nd from 4 P.M. to 6 P.M. for our Veterans Job Fair. Positions available: Office Services, Skilled Trade, Light Industrial, Professional. Express Employment Professionals has an active intent in helping veterans and their families look for work. Call, come in, or go online to learn more about how Express can help you get back to work.
Contact: Jennifer Butler, Express Employment Professionals, 503-399-1200, jennifer.butler@expresspros.com.
More info: https://www.expresspros.com