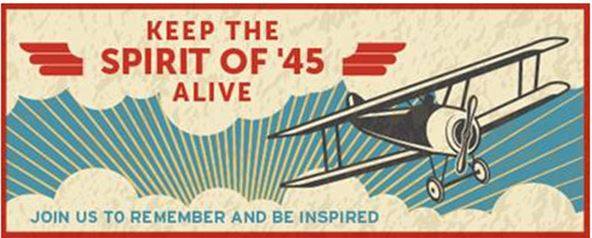 Oregon Spirit of '45 Day in Aurora
Oregon Spirit of '45 Day sponsored by Oregon Spirit of '45.
Date/Time: 08/14/2019 9:00 AM to 5:00 PM. Location: Aurora State Airport Columbia Aviation Association, 14323 Stenbock Way, Aurora.
Hosted by the Vital Life Foundation, the Oregon Spirit of '45 joins Aurora Aviation Association and their community this year to celebrate this special WWII Generation Day, Wednesday, August 14th at Columbia Aviation Association, Aurora Airport. (Oregon Spirit of '45 Day at the WWII Memorial in Salem will not be held this year; we plan to resume in August 2020). We encourage you to invite all veterans and their family members. There is lots of fun to be had for all ages (even a kids area). Many additions and surprises in store this year.
Contact: 503-910-4593.
More info: https://www.facebook.com/events/2404624129560786/